Letter from Rep. Petryk: Happy New Year!
My hope is that each and every one of you have a blessed holiday season and a very wonderful New Year!
Rep. Petryk 2013 Session Wrap-Up
This year has been both successful and challenging for the legislature and the state of Wisconsin. Now that 2013 is coming to a close, this is a perfect opportunity to highlight some of the successes that we have achieved in the Legislature. Through each success, Wisconsin has seen improvements in the everyday lives of its citizens from lowering taxes, to providing better opportunities for our state's workforce. 
2013-14 State Budget: The state passed its new biennial budget in June. This new budget contains one of the state's largest tax cuts in Wisconsin history of nearly $1 billion over the biennium while holding the line on property taxes. The legislature and the Governor also made investments in our children by expanding educational opportunities and investing new dollars into rural schools with high transportation costs. 
Locally, I worked to help the Village of Stockholm become a Premier Resort Area. As part of the state's budget, the Village is now able to impose a 0.5% premier resort area tax if approved by the majority of electors in the Village. 
Veterans: This year as Chair of the Assembly Committee on Veterans, I worked diligently to help improve the lives of our state's veterans. Through multiple pieces of legislation, a majority of which I was the primary assembly author, veterans now have more opportunities in the state and we are able to better display our continued appreciation for their selfless sacrifice. 
Two examples of legislation that will aid our veterans are: If a veteran so chooses, they may identify themselves as a veteran on their state issued driver's license or ID card (2013 Wisconsin Act 17); distinguished Purple Heart Medal recipients can also take part in Wisconsin's long standing history of hunting, trapping, and fishing by purchasing a sate conservation patron license at a reduced fee (2013 Wisconsin Act 55). 
Workforce Development: In 2013, the Governor unveiled his workforce development package aimed at improving our state's workforce and preparing our students for career fields in areas that are in high demand. 
Career and Technical Education Incentive Grants ( 2013 Wisconsin Act 59), of which I was the primary assembly author, creates an incentive program offering $1,000 per pupil as an incentive payment to school districts to assist in defraying the upfront costs of implementing the programs. The amount allocated for these grants is $3 million for the 2014-15 school year. Eligible school districts must establish programs encouraging students to earn industry recognized certificates in high-need occupations before graduation from high school. The State Superintendent will make the determination of which certificates will be eligible for this program. 
Also a part of the Governor's package was 2013 Wisconsin Act 60, Technical Excellence in Higher Education Scholarships. Prior to Act 60, Academic Excellence Scholarships are awarded to high school seniors at the top of their class and of the 726 students who received this scholarship in the last school year, only 16 pursued a technical education. This new state law creates a Technical Excellence Higher Education Scholarship Program under which the Higher Educational Aids Board will award scholarships to students who are at the top of their class in technical education subjects and who enroll full-time in a Wisconsin technical college. 
As you can see, we have accomplished many wonderful things for the state, however, there is still much more work to be done. Looking forward to the 2014 spring session, the state will focus on continued efforts to improve the state's job climate, workforce development, and the legislature will give attention to Representative Nygren's (R-Marinette) heroin legislative package. Like you, I look forward to the New Year and the set of new and exciting challenges and accomplishments 2014 will bring!
Representative Petryk and Others Join Together to Support our Troops
For the past month, my colleagues and I have been collecting items for care packages for Wisconsin troops serving overseas. In partnership with AT&T Pioneers, a volunteer group comprised of retired AT&T employees, we reached out to the entire Assembly, legislators and staff, to collect needed items. 
Military men and women stationed overseas are selflessly serving our country. This time of the year can be particularly hard to be away from loved ones. Anything that the legislature can do to make this time apart less stressful is one small way to show our appreciation. 
Items collected ranged from toothbrushes and toothpaste to card games, music, movies, and snacks. All items donated were collected by AT&T and will be sent by them to troops serving their country. 
My sincere thank you to the members of the Assembly and staff, on both sides of the aisle, who donated to this very worthy cause. A special thank you to Representative Ringhand who led the collection efforts for the Assembly Democrats. 
Merry Christmas and Happy New Year to all our service men and women serving near and far and to their families who also have made this sacrifice.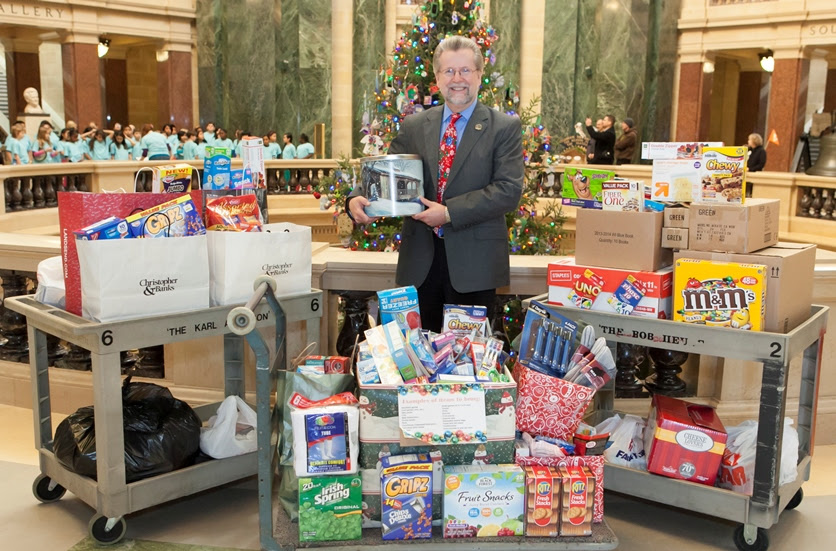 Operation Tip Up
(
Upcoming Events in the 93rd Assembly District
13th Annual Spring Valley Lion's Ice Fishing Derby
February 15th, 2014, 9:00-2:00 p.m.
http://www.springvalleywisconsin.org/iceFishing.html
2014 Hiring Our Heroes Veterans Event
Tuesday, March 25, 2014, 10-1:30 p.m.
National Guard Armory
1730 North Lane, Eau Claire