Letter from Rep. Petryk: This Week at the Capitol
While the Assembly is not in session again until mid-March, the members of the Assembly are hard at work reviewing legislation, meeting with constituents, and learning from stakeholders. This week alone, I attended, chaired, and testified at multiple committee hearings in the capitol and also traveled to Benton and Cuba City with members of the Speaker's Rural School Taskforce to learn about issues facing our public schools. 
As I have reported in the past, the Rural Schools Taskforce mission is to suggest solutions to a variety of problems facing Wisconsin's rural schools. The taskforce's goals are to create collaborative partnerships amongst school districts, explore new avenues to share innovations, address future transportation needs, map out strategies for long-term financial stability, develop tactics to handle declining enrollment, and maximize opportunities for advanced technology.
The taskforce has traveled across the state, including a stop in Pepin, and will soon work with our non-partisan Legislative Council to put together the taskforce's findings and recommendations. From that, it is the hope of the Speaker and members that positive legislation will be developed from our findings that will benefit our rural schools and help them succeed. 
Also this week, the Assembly Committee on Veterans, of which I am the Committee Chair, met to discuss Assembly Bill 805. This bill, that I authored, would provide the Secretary of the Department with $250,000 of existing money to distribute as grant money for non-profit organizations that help our state's veterans. The bill received overwhelming bipartisan support in the Assembly Committee on Veterans. My thanks to constituent Toni Mattson, of Trinity Equestrian Center, for coming down to Madison twice to testify in favor of the bill.
Assembly Bill 805 would take unused surplus funds from the VetEd program and transfer $250,000 one-time to allow the Secretary to award grant funds. This would not be an ongoing appropriation however, if the grant program is successful, the Department of Veterans Affairs and the Legislature could work together to develop a sustainable funding source for the grant. Also, Assembly Bill 805 would cap grant awards to allow for more non-profit organizations to benefit from the limited amount of funds. 
Finally, as a member of the Assembly Committee on Natural Resources and Sporting Heritage, I took part in both a public hearing and executive session on Thursday. The committee voted on passage of snowmobile safety program field training requirements (Assembly Bill 636) as well as registration of antique snowmobiles (Assembly Bill 670). 
Overall, it was a very busy and productive week at your state capitol. The Assembly will continue to hold hearings and review legislation as we head towards the conclusion of the 2013-14 legislative session. As always, if you would like to share your thoughts with me on any issues or legislative proposals, please contact me at Rep.Petryk@legis.wi.gov or at (888)534-0093. 
Chancellor Charles Sorensen Retires from UW-Stout
On February 18th, the Assembly honored University of Wisconsin-Stout Chancellor Charles Sorensen and his pending retirement from the university. With Assembly Joint Resolution 94, members of the Assembly and Senate commemorated the Chancellor for his 26 years of service to UW-Stout. 
During his extensive and impressive tenure, the Chancellor has made many positive contributions to the university including improving the campus and the education offered to each student. 
Congratulations Chancellor Charles Sorensen!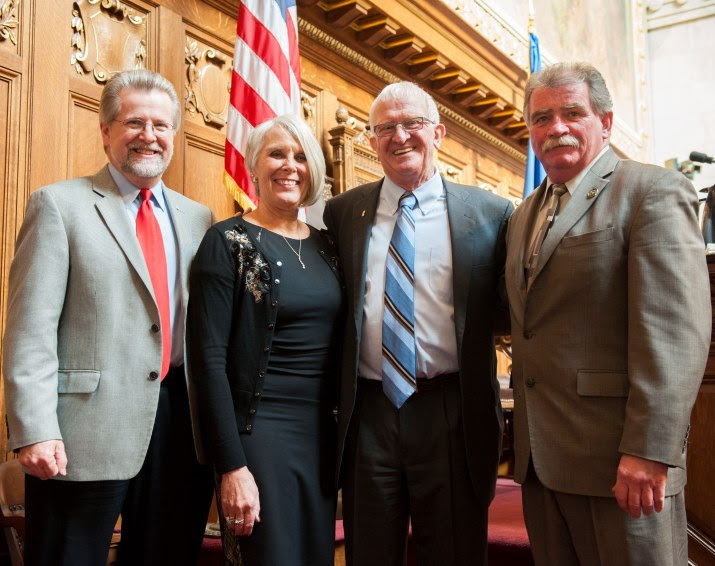 (Representative Petryk, Mrs. Sorensen, Chancellor Sorensen, and Representative Murtha)
Upcoming Events in the 93rd Assembly District
Chicken Dinner Sponsored by the Pepin Lions
March 15 at 5:00 p.m.
The Lions Club Building, 300 8th St, Pepin
2014 Hiring Our Heroes Veterans Event
Tuesday, March 25, 2014, 10-1:30 p.m.
National Guard Armory
1730 North Lane, Eau Claire
Ellsworth's 7th Annual Spring Fever Expo
April 12th