Letter from Rep. Petryk: Big Apple Giveaway
Governor Walker announced the partnership of the Green Bay Packers and the Wisconsin Edvest program and their combined support for the Big Apple Giveaway. This is a sweepstakes opportunity for one lucky Wisconsin student to win an Edvest college savings account of over $10,000 as well as an amazing trip to New York City. In New York City, this one lucky student will have to tremendous privilege of announcing the Green Bay Packers fourth round draft choice.
Edvest is the Wisconsin college savings plan. College tuition today has grown and over the past 10 years, the University of Wisconsin System has raised tuition 134.7 percent. Governor Walker and the Legislature approved a tuition freeze but likely, tuition prices will increase by the time our children attend college. That is why utilizing the Edvest program makes sense.
Here are some of the benefits of an Edvest savings account:
Contributions and any earnings used to pay for qualified higher education are federal and Wisconsin income tax free.
Wisconsin tax benefits reduce your income tax liability.
Contributions to Edvest can reduce the taxable value of your estate.
For more information about the benefits of Edvest and to start a savings account today, please visit https://www.edvest.com/.  
To win the Big Apple Giveaway, any parent, grandparent or guardian can enter their child to win. The rules are that the child must be between 8-14 years old and you can only enter the child once. Wisconsin schools can also register to win a prize of $5,529. All entries must be submitted by April 4, 2014. To enter your child or school, please visit https://www.edvest.com/bigapple. Good luck to all!
Cuts to the Army National Guard
In a bipartisan effort by the National Governor's Association, Governor Walker and his colleagues sent a letter to President Obama asking him to reject the deep cuts to the Army National Guard. As stated in the letter, our National Guard has demonstrated its cost-effectiveness and operational force that is a vital part of our national security. 
As we all know, the Wisconsin National Guard is our state's first line of defense in a crisis on a large, state-wide scale. The National Guard responds to natural disasters and man-made emergencies. They also deploy members overseas to support our nation's efforts to preserve our freedoms and help to gain those freedoms for others. 
Currently, the Wisconsin Army National Guard consists of roughly 7,700 members including staff in Madison and four major commands located throughout 67 communities around the state. Now, the United States Army is suggesting that the Army National Guard have their funds cut back to pre-2001 levels. With these cuts, many could lose their positions and Wisconsin would have fewer resources to respond when the Army National Guard is most needed. 
I support Governor Walker and the other 49 Governors and their efforts to support the National Guard across the country. Now more than ever, we need a strong National Guard that can help in the wake of disaster and support our efforts overseas. I sincerely hope that President Obama heeds their call to maintain the funding of the National Guard and show his support for our brave men and women that serve and protect us right here at home.
Wisconsin Updated Jobs Numbers
The Wisconsin Department of Workforce Development released updated jobs numbers for January showing that Wisconsin's unemployment rate has dropped to 6.1 percent. This is the lowest percentage the unemployment rate has reached since November 2008. 
Job estimates also show that Wisconsin has created 39,700 private sector jobs in 2013. This is the highest growth in jobs since 1999. Politifact (http://www.politifact.com/) reports that to date, Wisconsin has added 107,572 jobs. Furthermore, since Governor Walker took office, Wisconsin has gained 17,543 new businesses. 
The year prior to Governor Walker taking office, the unemployment rate was 9.2 percent. The hard work and dedication of the Governor and the Legislature to increase jobs, business, and overall workforce development has aided in the decrease in unemployment. 
Workplace Wellness Legislation Signed by Governor Walker
Senator Moulton and Representative Murtha on Thursday had their workplace wellness legislation, Senate Bill 73, signed into law by Governor Walker. I attended the event in Altoona to show my support for this new state law that will establish a grant for workplace wellness programs for small business. 
Senate Bill 73 offers incentive for small businesses to create a workplace wellness program for employees. The grant offered through Senate Bill 73 will cover up to 30 percent of the cost of a wellness program and the employer is then responsible for the remaining cost. Eligible companies must have less than 50 employees and must not already have an established wellness program. 
The key to a productive workforce is a healthy workforce. With healthy employees, employers can achieve higher productivity and fewer sick days used by employees.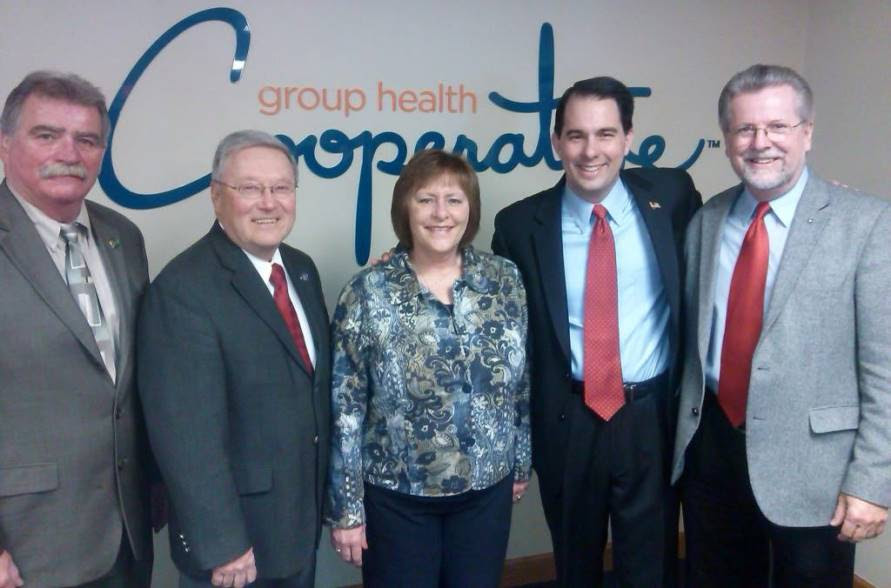 (Representative Murtha, Senator Moulton, Representative Bernier, Governor Walker, and Representative Petryk)
Upcoming Events in the 93rd Assembly District
Chicken Dinner Sponsored by the Pepin Lions
March 15 at 5:00 p.m.
The Lions Club Building, 300 8th St, Pepin
2014 Hiring Our Heroes Veterans Event
Tuesday, March 25, 2014, 10-1:30 p.m.
National Guard Armory
1730 North Lane, Eau Claire
Ellsworth's 7th Annual Spring Fever Expo
April 12th