Letter from Rep. Petryk: Resolution passed to support cheese makers and milk producers
Resolution Passed Unanimously to Support Wisconsin Cheese Makers and Milk Producers
Many well-known cheeses can trace their origins back to Europe, but today these products are enjoyed and known throughout the world, with Wisconsin's cheese makers and milk producers' concerted efforts undoubtedly assisting in this worldwide expansion and popularity.
However, recently the European Union has been making attempts, some successful, to control generic and common food names. Throughout current and previous trade talks, the European Union has attempted to claim for itself cheese names like parmesan, asiago, muenster, and feta, which have already been banned in certain world markets, while names like cheddar, gouda, mozzarella and provolone are at risk of being restricted.
Should this threat be successful, it could seriously impede the expansion of new and current markets for the entire $59 billion Wisconsin dairy industry. Last year, cheese exports reached a new record of $183 million and have grown by over 70 percent in just the past two years, which is why the United States cannot allow the European Union to lay claim to these common cheese names in any more world markets. Ninety percent of our state's milk goes into producing 25 percent of all cheese in the United States. That is over 2.7 billion pounds of cheese each year.
To express strong opposition to this and also to express support for Wisconsin cheese makers and milk producers, Senator Petrowski and myself, with the assistance of the National Milk Producers Federation and the United States Dairy Export Council, drafted Assembly Joint Resolution 113. 
Wisconsin has such a rich history and tradition in diary production, and I am so proud of the work our cheese makers and milk producers have done for our state and our economy. This Resolution represents my firm and definitive support for this industry, and I am pleased to announce that it passed unanimously in the Assembly on Thursday, March 20, 2014. 
Important Petryk Legislation Passes on the Final Days of Session
During the 2013-14 legislative session, I have worked tirelessly to author and pass meaningful legislation. During this term, as Chair of the Committee on Veterans, I have focused a lot of my attention on the needs of our state's selfless heroes. I am pleased that during the last two days of session, my colleagues from both sides of the aisle joined together to pass landmark legislation that will positively improve the lives of Wisconsin veterans. 
Assembly Bill 805 provides the Secretary of the Wisconsin Department of Veterans Affairs (WDVA) the opportunity to use existing money to support various veterans' organizations around the state through a grant program. Under the bill, the Secretary will be allowed to provide up to $250,000 in grants to nonprofit organizations so that they may provide financial assistance or other services to our state's veterans. The $250,000 is not new money and the dollars would come from the VetEd program. Furthermore, grants would not be able to exceed $25,000 to any one organization and the transfer of the $250,000 is a one-time appropriation.
Due to the success of the G.I. bill and declining participation in the VetEd program, there are funds available that can be used to help our veterans around the state. Last year, only half the money allocated to VetEd was actually spent. With Assembly Bill 805, we can ensure that these dollars will not go unused and that they will be put to good use in assisting our state's veterans. 
Assembly Bill 805 also provides the Secretary with measures for accountability and the grant dollars provided will be used as they were intended. Groups and organizations who receive funding will be required to adhere to certain record keeping and audit requirements. A grant recipient would need to maintain records on how they spent the grant dollars awarded to them and they must allow the DVA to have access to those records when requested. Failure to comply would result in possible legal action as well as a reduction, suspension, or termination of the grant to the recipient. 
In a show of bipartisanship, Assembly Bill 805 passed the Assembly unanimously!
Also this week, the Assembly took up and passed unanimously, Senate Bill 330 (Assembly Bill 414). Senate Bill 330 is another positive piece of legislation for our veterans. Currently, the Wisconsin Retirement System (WRS) offers former federal employees (who now work for the state) the opportunity to buy creditable years of service in WRS. Unfortunately, veterans have been unfairly excluded from this opportunity until this legislation. 
To qualify to purchase creditable years in WRS, the employee would have to meet the following:
The employee must have at least 3 creditable WRS years at the time of application.
The employee must pay a lump sum to cover the WRS benefit they wish to purchase.
The employee cannot buy service for years that are also being used for other benefits. This prevents employees from "double dipping" with limited exceptions.
The employee must have been discharged from the U.S. armed forces under conditions other than dishonorable.

 
Participation in purchasing creditable years in WRS is completely optional for qualifying employees. Also, by allowing qualifying members to purchase, it is at no cost to the state. 
The work of the Assembly on passage of both of these bills is not only greatly appreciated by me but by veterans who will benefit across Wisconsin. My sincere appreciation goes out to my Veteran's Committee members, my staff, and colleagues who worked with me to pass these bills. 
Cardinal Manufacturing
This week, the Governor traveled to Cardinal Manufacturing in Strum, Wisconsin. Cardinal Manufacturing is part of the Eleva-Strum High School and is a hands-on learning opportunity for students to learn about manufacturing. 
The focus of Cardinal Manufacturing is to provide its students with the necessary skills to work in manufacturing industries and be our future manufacturing leaders. This program has been in place since 2007 under the leadership of Craig Cegielski. The program not only addresses the state's need to fill workplace shortages of skilled machinists, welders, fabricators, engineers and other manufacturing occupations, but it also teaches its students how to be professional, meet deadlines, and achieve results in the real world. 
The Governor and the Legislature are committed to training a skilled workforce for the jobs that are in demand in Wisconsin. We have passed legislation to help train our workforce for high demand jobs such as those being taught at Cardinal Manufacturing. I commend outstanding instructor Craig Cegielski for his forward thinking and all the students who have chosen this path and are succeeding at Cardinal Manufacturing.
Pierce County Community Health Needs Assessment and Improvement Plan
The Pierce County Public Health Department was kind enough to share their Community Health Needs Assessment and Improvement Plan with me and I wanted to take this opportunity to share their findings with my E-News Update readers. 
Throughout 2012-2013, Pierce County Public Health Department collaborated with River Falls Area Hospital to launch the Community Health Needs Assessment (CHNA) process for Pierce County.
We worked with community partners to complete the health needs assessment, engaging a wide range of community members to help us identify and prioritize local health needs. Physical activity and healthy foods were identified as the top priorities for Pierce County. When developing a three-year plan to address these priorities, we reviewed national research on "what works," ultimately choosing evidence-based strategies to improve health.
Because of the important role you play in the health of this community, I wanted to be sure to provide you with a summary of the process and outcomes. I've attached a copy of a press release sent to local media contacts late last month, and also a copy of the final Community Health Needs Assessment and Implementation Plan 2014-2016. The plan can also be accessed online at: 
http://www.co.pierce.wi.us/Public%20Health/PDF/Publications_Data/CHNA.full%20report.2013.River%20Falls-1.pdf orhttp://www.allinahealth.org/ahs/aboutallina.nsf/page/River_Falls_final_report.pdf/$FILE/River_Falls_final_report.pdf.  
For a more detailed description of the work planned as part of the implementation of this plan, go to: http://www.co.pierce.wi.us/Public%20Health/PDF/Publications_Data/Pierce_County_Health_Improvement_Plan%2020130821.pdf. 
Representative Petryk with members of the Pierce County 4H Delegation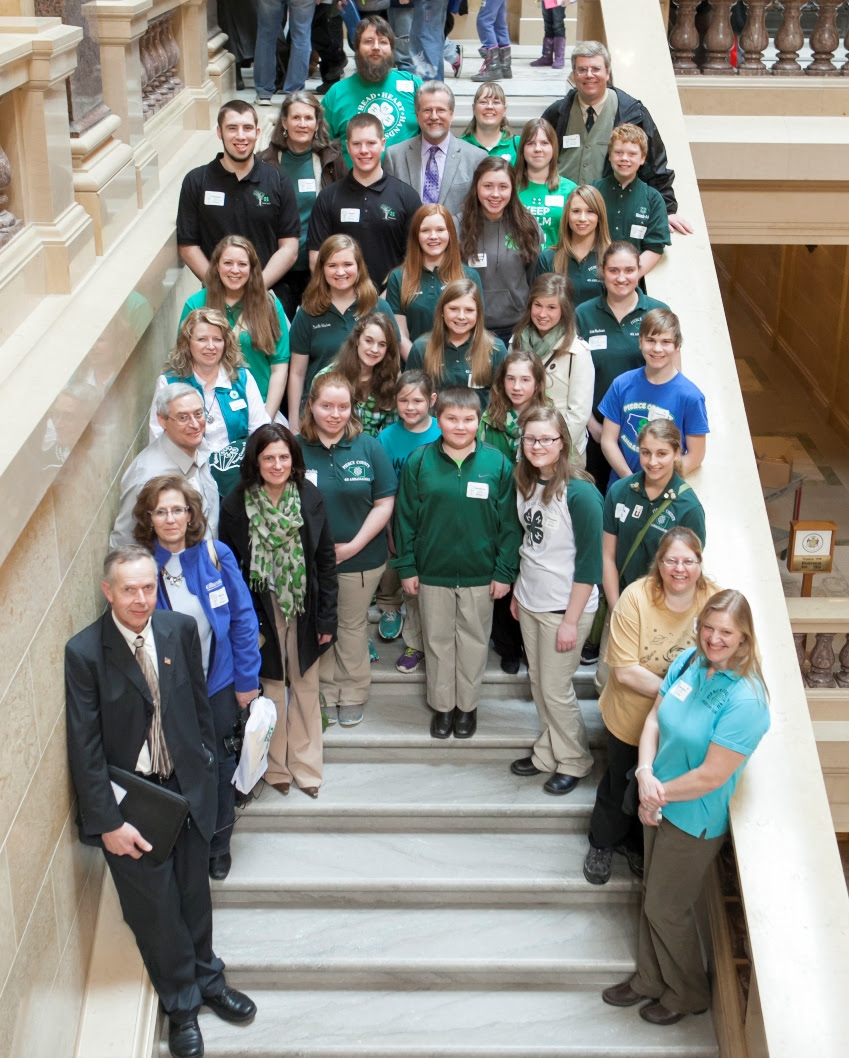 Upcoming Events in the 93rd Assembly District
Free Presentation about the St. John's BibleTuesday, April 8th, 10:30-12:00 p.m.Mayo Clinic Health System Auditorium (Luther Building, Atrium Level)
Ellsworth's 7th Annual Spring Fever Expo
April 12th