Letter from Rep. Petryk: Final E-News Update for 2014
Final E-News Update for 2014
Thank you all for your enthusiastic support for and feedback on my weekly E-News Update throughout this term! It has been my delight to keep you up to date on some of the key events and happenings in your State Legislature. However, every two years, at this time, elected officials are limited in what they can send out to their constituency. According to s. 11.33, we are prohibited from sending 50 or more pieces of substantially identical material after April 14th, 2014. Therefore, this is the final Petryk E-News Update for 2014. 
I am always here to assist in any way that I can! If you have an issue that you need help with, please do not hesitate to contact my Madison office at (608) 266-0660 or feel free to email me at Rep.Petryk@legis.wi.gov. 
I will resume sending the Petryk E-News Update beginning in January, 2015. Until then, I hope to see you all around our 93rd Assembly District and I wish you all a wonderful summer! 
H.O.P.E. Legislation Signed into Law
As I have reported in the past, the heroin epidemic is unfortunately growing in Wisconsin at an alarming rate. Drawing on his very personal family experience with the issue of heroin, Representative Nygren (R-Marinette), drafted multiple pieces of legislation to combat the problem in our state.
This issue is no longer just a problem for the typical large city. The heroin epidemic has now spread into rural areas causing upheaval in small communities. According to the national Institute on Drug Abuse, 4.2 million Americans, from 12 years and older, have used heroin at least once in their lifetime. Of those Americans, 23 percent will unfortunately fall victim to the addictiveness of heroin and become dependent on the drug. 
The Drug Enforcement Administration (DEA) has testified to the rapid spread of heroin use in rural America. The DEA reported on a study conducted by the National Center on Addiction and Substance Abuse (CASA) in 2000 stating that the rate of drug use is higher in rural America that in large urban areas. CASA also reported that eighth graders, who live in rural areas, are 104 percent more likely to use amphetamines and methamphetamines than children living in urban areas. In response, the DEA has had to reallocate staff to deal with this growing issue.
The Heroin, Opiate Prevention, and Education (HOPE) agenda, will not fix the problem completely, however, this legislative package will help Wisconsin deal with this growing issue. The following is an explanation on the new state laws that were signed by Governor Walker:
Assembly Bill 447 (2013 WI Act 194): This law grants limited immunity to anyone who calls for help for someone who has overdosed while taking a controlled substance. 
Assembly Bill 701 (2013 WI Act 195): Will create a new option for those facing heroin and opioid addiction. This new law offers the option of a long-term opioid antagonist drug, which works to block the effects of opioids for 30 days, and creates regional comprehensive opioid treatment programs in rural and underserved areas. 
Assembly Bill 702 (2013 WI Act 196): This law addresses recidivism amongst drug offenders. 
Assembly Bill 668 (2013 WI Act 197): This law nearly doubles funding for treatment and diversion (TAD) programs which offer an alternative to prosecution and incarceration for those who suffer from substance abuse. 
Assembly Bill 448 (2013 WI Act 198): This law promotes the safe disposal of unused medications by allowing for community drug disposal programs. 
Assembly Bill 445 (2013 WI Act 199): This law, of which I was one of the primary authors, will require anyone picking up a schedule II or III narcotic from the pharmacy to present appropriate identification. This will help deter people from fraudulently obtaining these types of drugs and providing them to those who abuse prescription medications. 
Assembly Bill 446 (2013 WI Act 200): This law will allow properly trained first responders to administer Naloxone which is used to counter the negative effects of an opiate overdose. 
It is the hope of the Legislature and the Governor that the HOPE package will not only act as a deterrent for the use of heroin but will help to save lives. These new laws have begun a conversation here in Wisconsin that will be ongoing well into the future.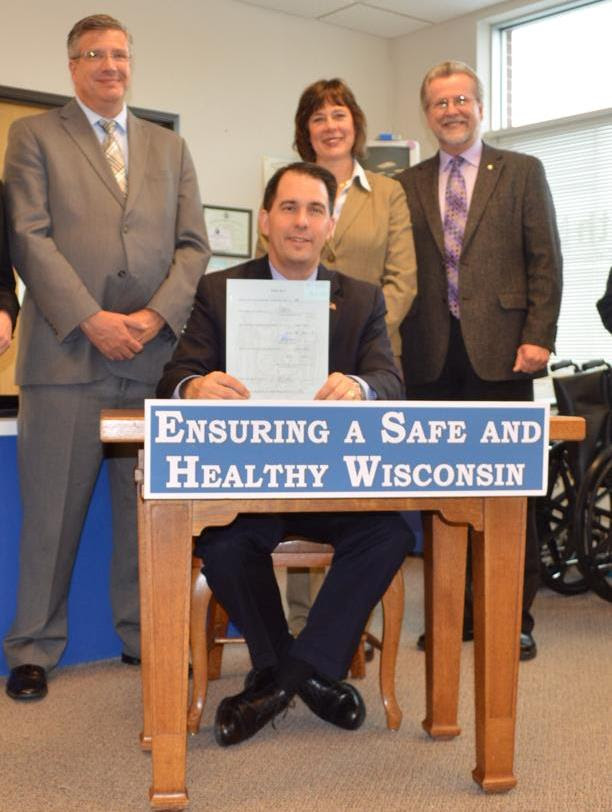 (L-R:  Representative Nygren, Governor Walker, Senator Harsdorf, and Representative Petryk)
Rep. Petryk Receives Recognition from the Wisconsin Department of Veterans Affairs
Today, at the Board of Veterans Affairs meeting, the Secretary of the Wisconsin Department of Veterans Affairs, John Scocos, presented me with a plaque acknowledging my commitment to veterans. As the Chair of the Assembly Committee on Veterans, it has been a top priority for me to do what I can, as an elected official, to show our state's appreciation for the dedication and selfless sacrifice of our state's veterans. I am very humbled to receive this acknowledgement.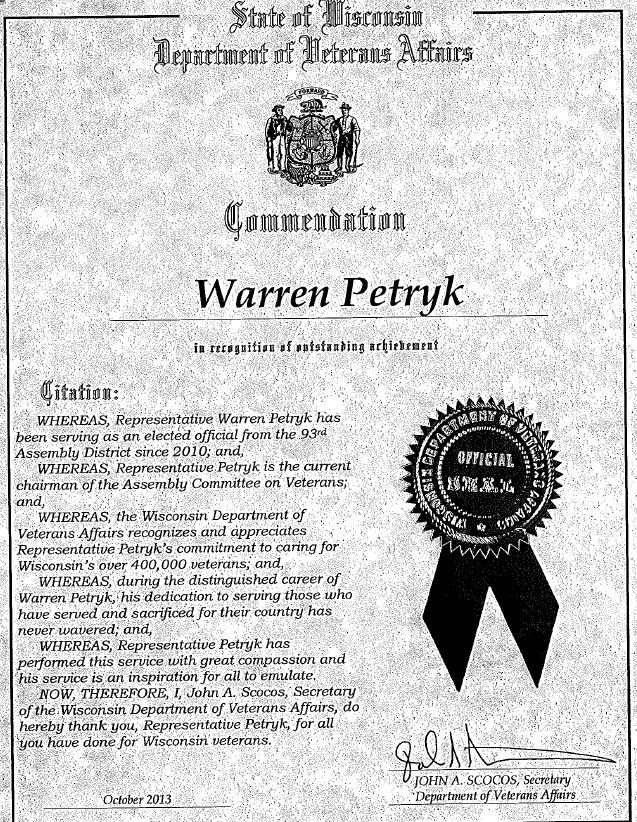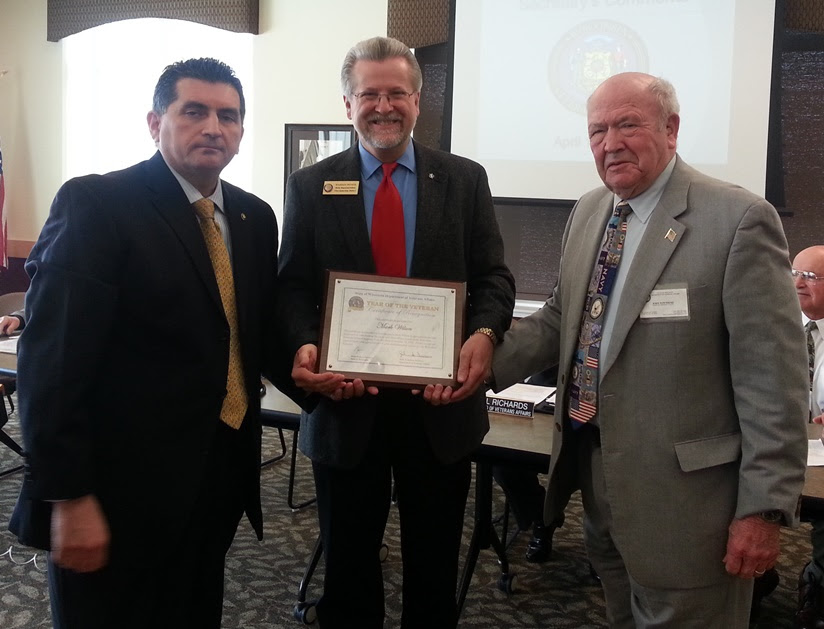 (L-R:  Secretary Scocos, Representative Petryk, and former Representative Townsend)
Chippewa Valley Showcase Video
Luc Anthony and Matt Malone, from NewsTalk 790 WAYY, put their creativeness to work for the Chippewa Valley and made the following video: http://youtu.be/51IDDC_QLaY.  This video not only showcases the very popular song "Happy" by Pharrell but it shows-off the beautiful Chippewa Valley. My 14-year-old enthusiastically happy Wonderdog Labrador Retriever Chloe and I were very pleased to participate in the video and we hope you enjoy! Woof!
I was pleased to take part in this video and hope you enjoy!
Local Event
Upcoming Events in the 93rd Assembly District
United Methodist Church of Pleasant Valley Chicken SupperSaturday, April 26th, 4-7:00 p.m.S12166 Hillview Road, Eleva